Priya is a young girl in southern India who is one of millions of modern day slaves, working in the garment industry. Priya is trapped by her culture and circumstances that tell her she is worth nothing more than to be a slave. But when a teacher believes in her, she discovers something powerful, herself.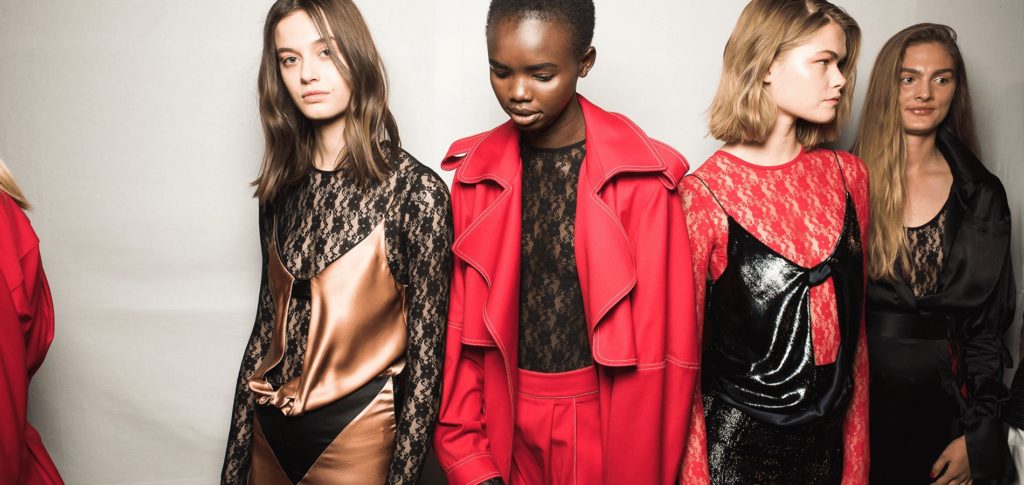 Designed for a Lifetime, Not a Season.
A real passion project as part of our do epic good* platform. We wanted to tell a story that highlights fast fashion's unethical practices and staggering environmental impact, but at the same time offers hope for a better future – centered on designers and brands that have chosen to create solutions and design for a lifetime, not a season.
Through partnerships with leaders in the fight for sustainability, we created a social film and two stories that revolved around the use of natural and repurposed fibres and the importance of embracing a circular economy. The response was incredible. We were invited to show the film at the UN General Assembly in line with their Sustainable Development Goals platform, and to host three panels on sustainability-related topics in partnership with the UN at SXSW 2019.
We're not stopping there. do epic good* is currently in talks to create new partnerships, tell new stories and find new solutions.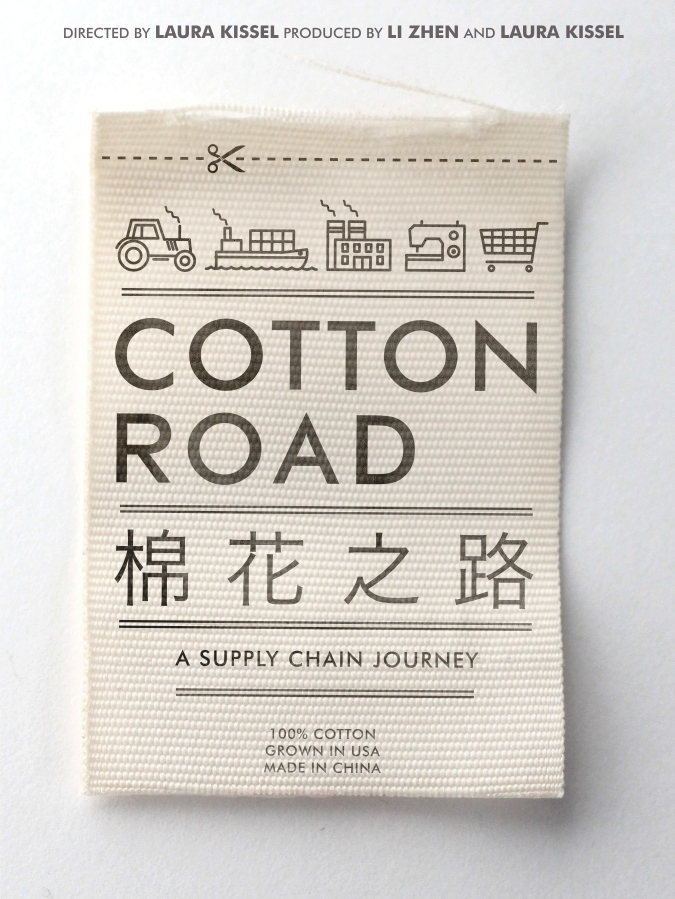 What does a rural town in South Carolina have to do with China? Americans consume nearly twenty billion new items of clothing each year, and at least one billion of them are made in China. Cotton Road uncovers the transnational movement of cotton and tells the stories of worker's lives in a conventional cotton supply chain. From rural farms in South Carolina to factory cities in China, we span the globe to encounter the industrial processes behind our rapacious consumption of cheap clothing and textile products. Are we connected to one another through the things we consume? Cotton Road explores a contemporary landscape of globalized labor through human stories and provides an opportunity to reflect on the ways our consumption impacts others and drives a global economy.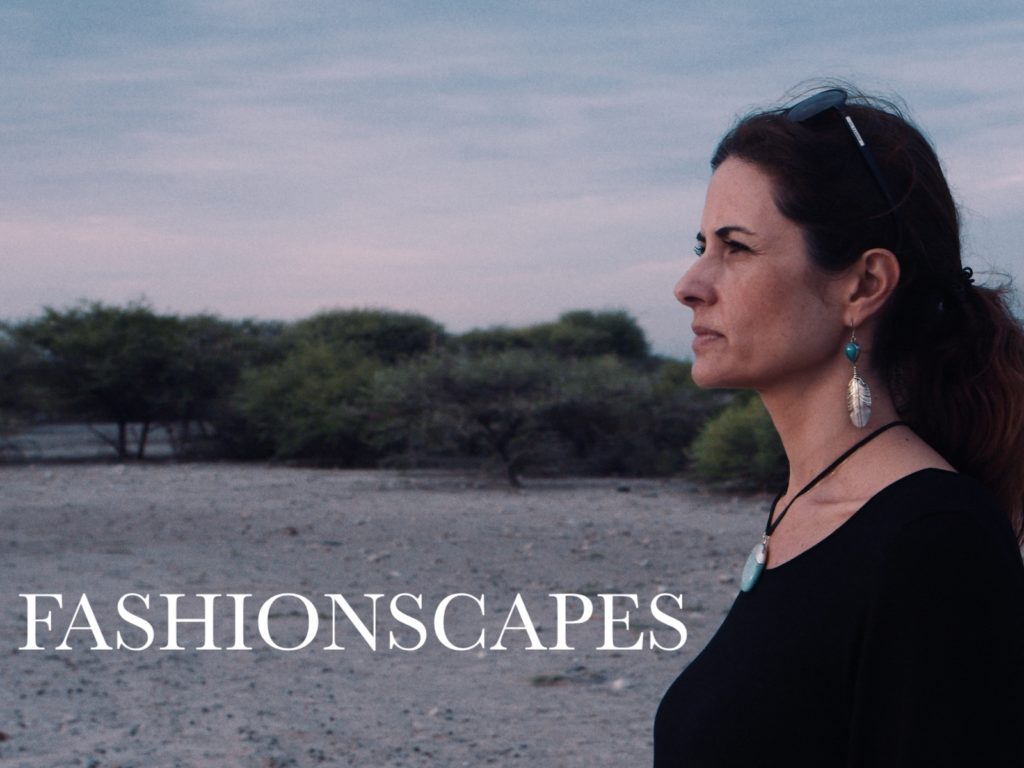 After working together on The True Cost documentary, named by the Hollywood Reporter as one of the most influential fashion documentaries of the last decade, acclaimed film director Andrew Morgan, and co-founder and creative director of Eco-Age Livia Firth, launched the short documentary series Fashionscapes to turn the camera towards stories of hope and possibility.
Livia and Andrew have teamed up again to tell two more important stories: Fashionscapes: The Living Wage, and Fashionscapes: Circularity.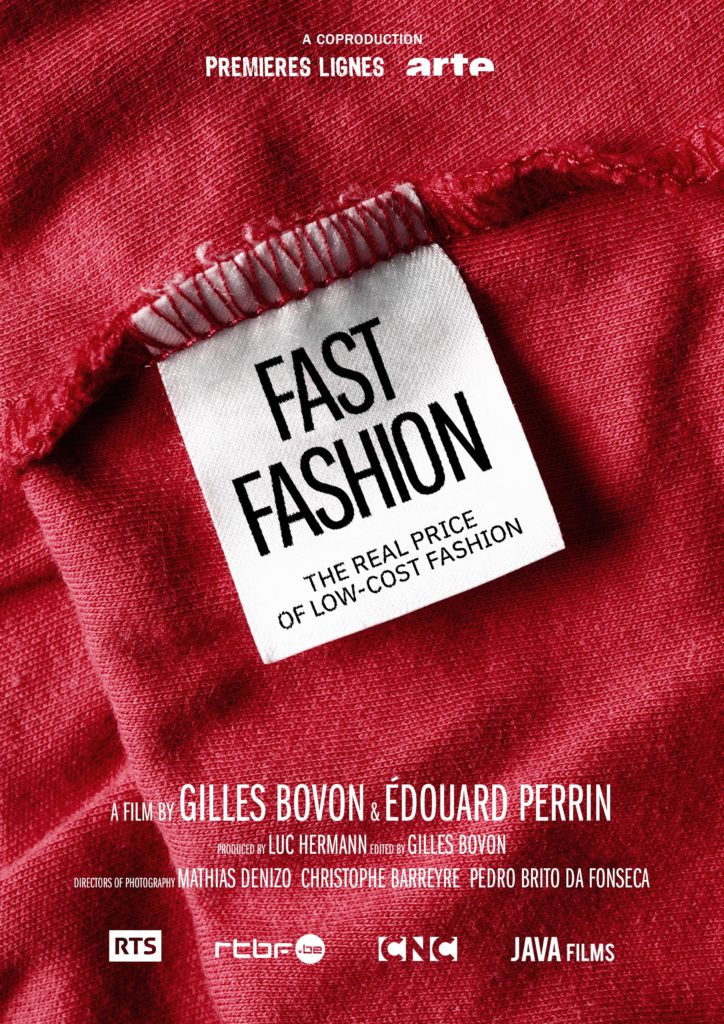 The planet is being overwhelmed with clothes. Close to 56 million tonnes of clothes are sold every year. In Europe, the amount purchased has almost doubled since the year 2000. Thanks to fast disposable fashion, you can constantly renew your wardrobe. But producing clothes at such a low price has a very high environmental cost. Textiles are the second most polluting industry in the world, after oil.
Creating a dress for ten euros in Europe, in less than a fortnight. It's not only possible, but it's becoming the norm. Since the fashion industry went down the path of fast fashion, it's always both faster and cheaper – no matter the consequences.
Let's start with those suffering the most: the workers. They work between 12 and 15 hours a day for salaries less than half the legal minimum wage. And in abominable working conditions. Chemical products in textile factories often poison the workers and local residents.
According to the brands, they no longer have time to create. In order to satisfy an insatiable consumer appetite, copying the competition's models makes things go faster and cheaper – even if it means risking a court case now and then.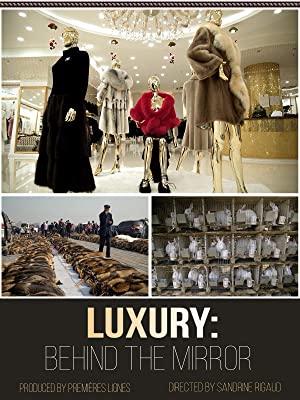 With their beautiful shopfronts and finely crafted goods, brands like Gucci, Max Mara, Louis Vuitton and Prada are seen as being the height of luxury, conjuring images of master craftsmen finely crafting each item. But – as this investigation reveals – behind the glamorous exterior, all that glitters is not gold.
In the world of luxury goods, leather means record-breaking profits. For brands like Gucci and Yves Saint Laurent, over 70% of their profits comes from leather goods. But where does this luxurious leather come from? Most of the raw material is tanned in a small region in Tuscany, where the heavy, difficult work is subcontracted out to immigrants. Temperatures in the factories can reach 45єC and the workers – many on short term contracts – are often exploited and mistreated. We hear from workers who were seriously injured at work and then attacked for daring to complain.
Then there's fur, the other iconic luxury material. Nowadays, most fur comes from China, where 70 million animals are killed for their skins every year. Here animals have no rights or protection and conditions in the farms are atrocious. We managed to access one of these farms and what we found was a world away from the luxurious image the brands promote.
Animal suffering, deplorable hygiene conditions…discoveries to make your blood boil. From Haute-Couture at Paris Fashion Week to Chinese and Italian backroom boutiques, we investigate the hidden side of luxury.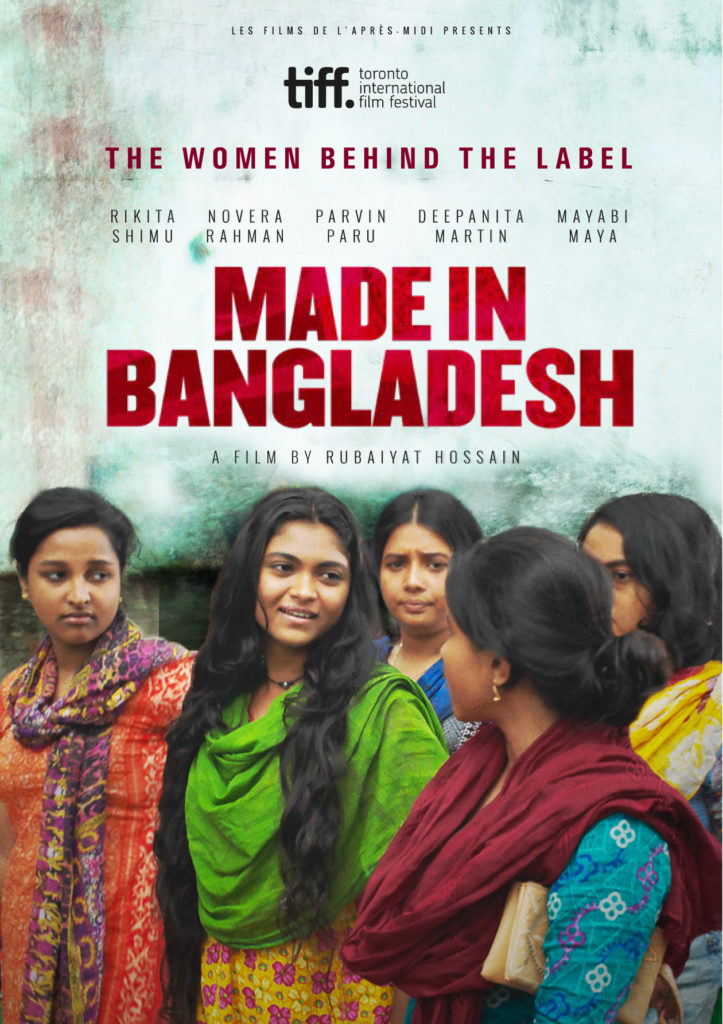 A textile worker fights for employee rights after a co-worker is killed in a fire at her factory.
Shimu, 23, works in a clothing factory in Dhaka, Bangladesh. Faced with difficult conditions at work, she decides to start a union with her co-workers.
Despite threats from the management and disapproval of her husband, Shimu is determined to go on. Together the women must fight and find a way.
REDRESS THE FUTURE
'ReDress the Future' explores the ideas and innovators subverting the status quo which underlies an unsustainable fashion industry.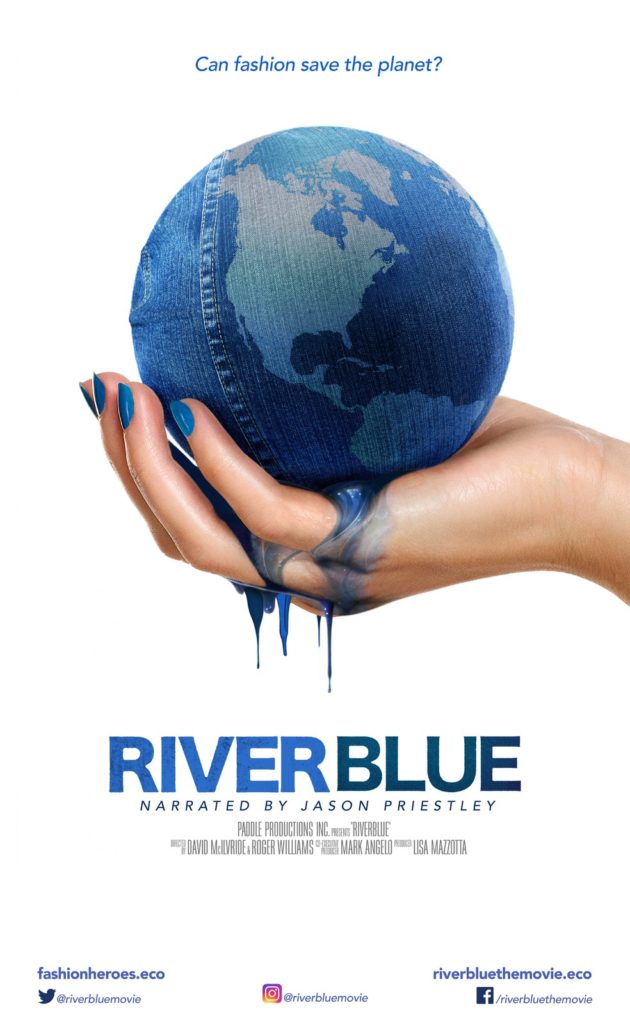 Following international river conservationist, Mark Angelo, RIVERBLUE spans the globe to infiltrate one of the world's most pollutive industries, fashion. Narrated by clean water supporter Jason Priestley, this groundbreaking documentary examines the destruction of our rivers, its effect on humanity, and the solutions that inspire hope for a sustainable future. Through harsh chemical manufacturing processes and the irresponsible disposal of toxic chemical waste, one of our favorite iconic products has destroyed rivers and impacted the lives of people who count on these waterways for their survival. RIVERBLUE brings awareness to the destruction of some of the world's most vital rivers through the manufacturing of our clothing, but will also act as a demand for significant change in the textile industry from the top fashion brands that can make a difference.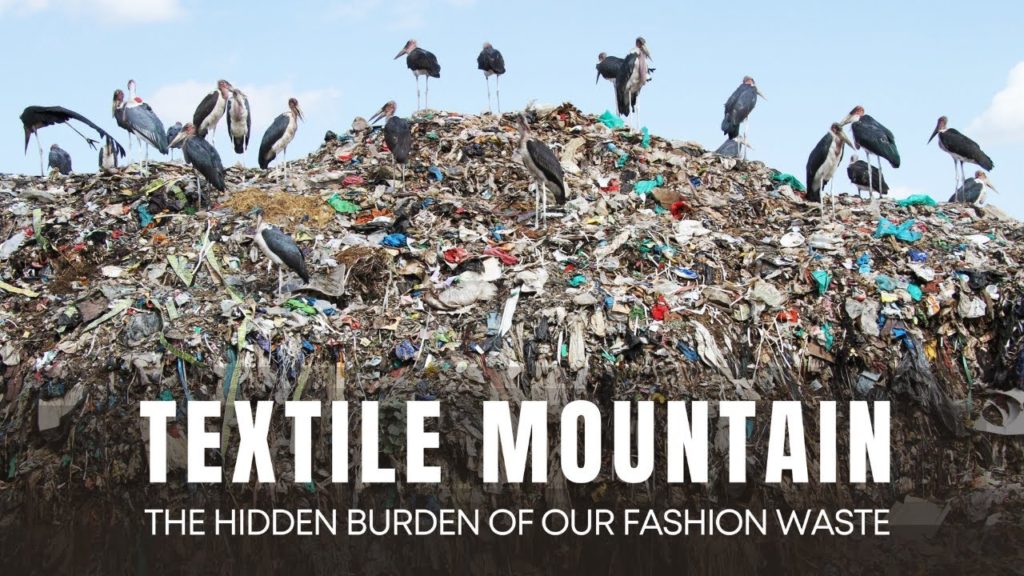 Europeans throw away 2 million tonnes of textiles each year. Every second, the equivalent of one garbage truck of textiles is landfilled or burned.
Many of us donate our unwanted clothes to charity shops & clothing collection banks – but do we really know what happens to them then?
Globally, 70% of our donated clothing is baled and sold to textile merchants who ship them overseas for resale in Sub-Saharan Africa.
Textile Mountain exposes the social and environmental cost of the second hand clothing trade, tracing the path of our unwanted garments from recycling bins in Europe to landfills and waterways in the Global South.
Shot in Kenya, Ireland and Belgium, this film calls on us to re-imagine the way the way we design, wear and reuse our clothes – so that our fashion waste no longer becomes another country's burden.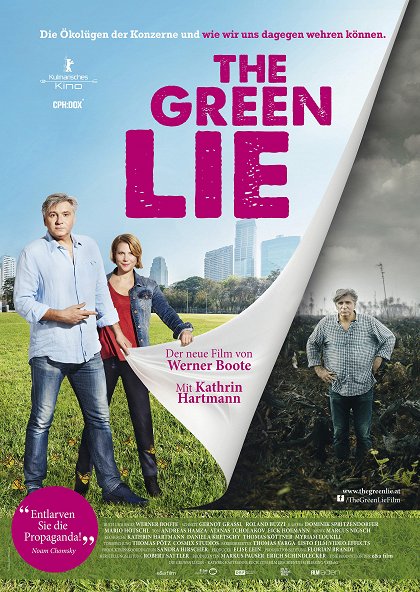 Environmentally friendly electric cars, sustainably produced food, fair production: Hooray! The big companies would have us believe that we can save the world just by buying the right stuff. But this is a widespread and dangerous lie. In his latest documentary, Werner Boote joins forces with Katharina Hartmann, an expert in greenwashing, to explore how we can fight back against this lie. Stop the Green Lies!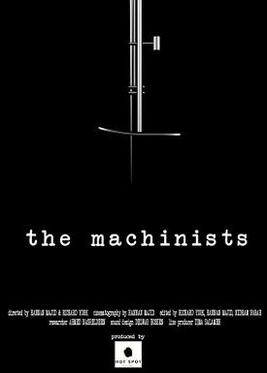 'The Machinists' is a 2010 British documentary which follows the daily lives of workers who make clothes for popular high street brands like Primark, H&M and Zara in the garment factories of Dhaka, Bangladesh.
'The Machinists' is a 2010 British documentary
New technologies, sustainability concerns and innovative minds are transforming our clothes. The Next Black documentary film introduces the designers, innovators and leaders who are shaping the future of clothing. This is not a film about what's new, it's about what's next.

The Next Black is a documentary that brings together designers, innovators and leaders from around the globe for an open discussion on the concept of clothing. It probes beyond what we are wearing to explore how we produce clothes, how we interact with them and how we care for them. Each person we interviewed has a fresh perspective on the future of the clothing industry – and all of them are using their passions to fuel change.
This is a story about clothing. It's about the clothes we wear, the people who make them, and the impact the industry is having on our world. The price of clothing has been decreasing for decades, while the human and environmental costs have grown dramatically. The True Cost is a groundbreaking documentary film that pulls back the curtain on the untold story and asks us to consider, who really pays the price for our clothing?

Filmed in countries all over the world, from the brightest runways to the darkest slums, and featuring interviews with the world's leading influencers including Stella McCartney, Livia Firth and Vandana Shiva, The True Cost is an unprecedented project that invites us on an eye opening journey around the world and into the lives of the many people and places behind our clothes.
'The Machinists' is a 2010 British documentary
UDITA' follows 5 years in the lives of the women at the grass roots of the garment workers struggle. From 2010, when organising in the workplace would lead to beatings, sacking and arrests; through the tragedies of Tazreen and Rana Plaza, and to the present day, when the long fight begins to pay dividends. We see this vital period through the eyes of the unions' female members, workers and leaders.